Banner Printing FAQ
Take a look at commonly asked questions in our banner printing FAQ section.
What are PVC Banners?
Banners are an excellent low cost method of display advertising. They can be used both indoors and outdoors in a variety of locations. Banner printing produces quality full colour printed displays that can be hung on walls, fences, railings, between two posts, and even hedges.
Can I have my own artwork printed on banners?
Yes – banners can be printed with your own artwork and images. Every online banner printing order is custom-printed, with unique artwork, for each customer.
What material is used for banner printing?
We use a heavy-weight 500gsm outdoor PVC banner material. This is a white, flexible, plastic-type material that is fully weather-proof and suitable for use outdoors.
What size banner should I choose?
Banners are supplied in a wide variety of sizes. In most cases they will be in a landscape format. The most popular sizes are 2ft x 4ft, 4ft x 6ft, and 4ft x 8ft. When thinking of a size it is worth considering the following:
The space you have to hang the banner. Try and choose a size that best fits the space where the banner will be hung.
The amount of information being displayed – Banners are meant to be seen from a distance, so if you have quite a bit of information to display, choose a large size so that all elements of the design are big enough to be easily seen.
What is hemming and eyelets?
Most banners are printed in a landscape format, hemmed all around with punched eyelets. The eyelets are used to attach the banners to the surface on which they are being used.  The hems are a double layer around the edges which create strength to the banner and support the eyelets.
Our hems are usually between 50mm – 70mm, and eyelets are placed in the middle of the hem.  Our eyelets are 25mm in diameter and make an 11mm hole.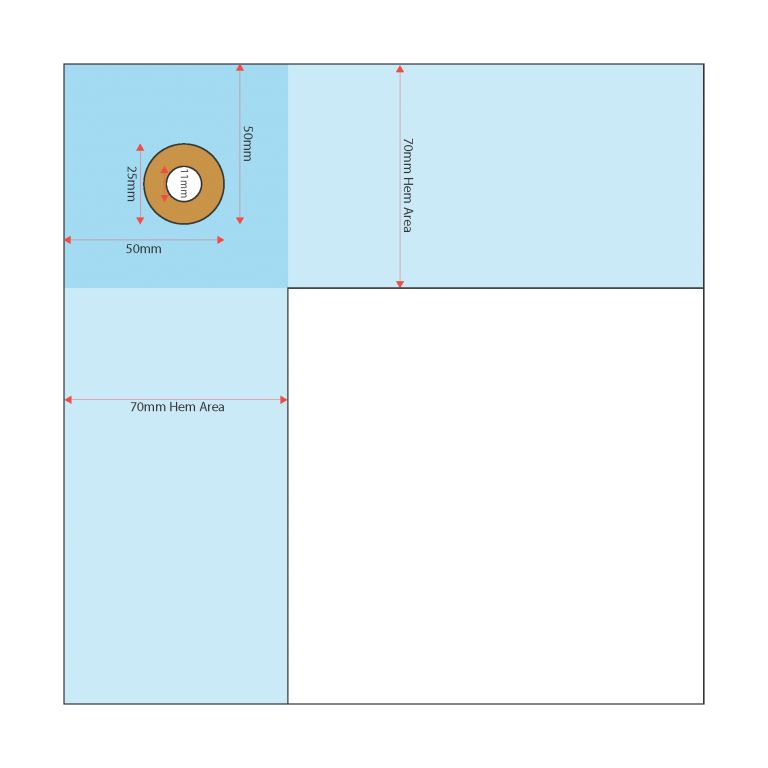 How do I hang an outdoor banner?
For more detailed information with pictures please see our How to Hang a Banner Guide.
All our PVC banners are supplied with eyelets. These are re-enforced holes around the perimeter of the banner. It is these holes which are used to hang the banners.
Hanging a Banner to a fence
A cost-effective way of attaching a banner to a fence is to purchase cable ties and then use the cable ties to attach the banner to the fence through each eyelet hole. It is important to use each eyelet to provide the best support across the whole length of the banner.
Hanging an outdoor banner to a wall
For a semi-permanent wall fixing, in it advisable to drill holes into the wall and screw the banner to the wall through each eyelet using a large washer to cover the eyelets.  Another option is to use hook screws and attach the banner to the hooks. We also supply special wall mounted banner frames which can be attached to a wall and the banner is then supported in the frame.
Hanging a banner between two poles
Thread a length of bungee cord or rope through the eyelets on the top and bottom of the banner – this provides a support for the length of banner. Attach the ends of the rope to the pole. To keep the banner taut, attach a cable tie or bungee tie to each of the 4 corner eyelets and secure to the poles. In areas of high wind consider ordering a mesh banner instead of standard PVC to allow the wind to pass through the banner.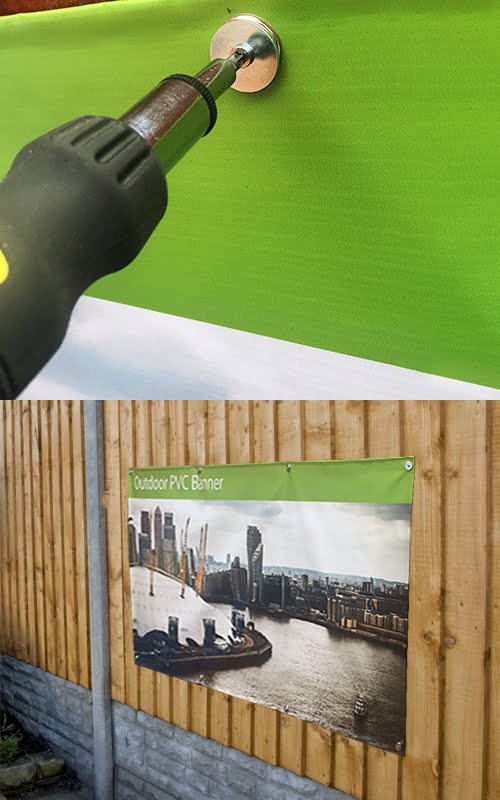 What is print ready artwork?
For us to print your banner we need the artwork (the design you would like printed) supplied to us. Print ready artwork means that the file that you send us is all set up correctly, as the final version that you would like printed. The artwork should be supplied as a PDF file, with the document size set up to the actual size of banner you will be ordering.
I don't have the software to design a banner – can you help?
Yes, we can help create a professional attractive design for your banner through our online banner printing service. We offer a banner printing design service and all we need is your logo, any images to be used, and the text you would like on your banner.  Our designers will then create a bespoke design and send you a proof to approve before printing your banner.
I already have a printed banner – can you print over the top of it?
Unfortunately no, we cannot print onto already printed banners.
How fast can you deliver my printed banner?
Our standard banner printing turnaround time is usually 48 hours. This means if you order on a Monday before 11am, we will dispatch your order on Tuesday for delivery on Wednesday.
I hope this FAQ has been useful. Visit our Outdoor Banner Printing product to start your order.