As Halloween approaches we are all getting in the spooktacular mood! But as business owners, it's important to capitalize on the sense of fun. If you create some themed offers or events, you'll be sure to gain custom. One of the best ways to do this is with some Halloween rebranding. But what does this mean? And what are some good examples of Halloween rebranding? We take a look…

What do we mean by Halloween rebranding?
A rebrand is generally thought of as something time-consuming, costly and (most importantly) permanent. A Halloween rebrand however is temporary and seasonal, and doesn't have to be expensive. Halloween rebranding could involve any of the following:
Temporarily changing your company name to include a Halloween theme

Temporarily advertising a popular product with a Halloween pun

Temporarily offering different packaging, signage or marketing materials for a product, event or service

Having a Halloween takeover in store, on your website or social media 

Adding a Halloween themed note card to your orders
Adding a new Halloween-themed tagline like: 'Boo to you from our Crew', 'Bugs and Hisses to you' or 'Carve Out Some Good Times' can be a simple way to add a theme to your products or services (take a look at some more inspiration for Halloween Taglines). 
A rebranding doesn't have to be expensive – in fact, if you just do a Halloween social media takeover, it's free! Simply redesign your social media platforms in Halloween colours, changing the names of your businesses to reflect something spooky, and litter your Facebook page with Halloween-y imagery!
Great examples of Halloween rebranding
If you're looking for some inspiration – look no further. Here are our favourite examples of a Halloween rebranding campaign.
1. The Screme Egg – a twist on an original product

This is a great example of taking a well known and well loved product and rebranding it to appeal to a different holiday crowd. Originally, when Cadbury's with Frys released the Creme Egg in 1963, it was only available in the run up to Easter. Rebranding the Creme egg into the Screme Egg (simply by changing the name and the colour scheme of the packaging and internal 'goo' from yellow to green) brought the Cream Egg into autumnal sales seamlessly. Not only is the Screme Egg now a staple for parties and trick or treating, it also allows the Creme Egg to be sold all year round and still remain seasonally relevant. 
2. Google 2019 – an online interactive experience
In 2019, Google rebranded its staple homepage and search bar to provide an incredible Halloween themed alternative. However, this design wasn't just visual; this was an interactive trick or treat experience. Google often changes its titular search bar to reflect the important day or holiday – but this one was really spectacular. As a user, you could click different options to receive a trick (an animal jumping out / doing a dance) or a treat ( a fun fact about that animal): incredibly effective and entertaining Halloween rebranding. 
3. Burger King Whopper – a new product
Burger King released a limited-time Halloween product: the Halloween Whopper with a black bun complete with A1 sauce baked into the bread itself. The demand was huge and restaurants quickly sold out. The Burger King Whopper ultimately was not renewed for another season due to some issues with the dye in the bun causing unusually coloured bathroom events! Whereas the dye may not have been successful, the marketing campaign certainly was!
4. Starbucks – a rebrand and new products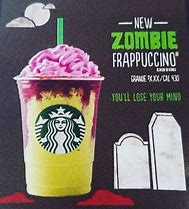 When it comes to temporary rebranding, Starbucks know what they are doing! Not only have they launched Halloween-themed reusable cups (encouraging new sales and an eco-friendly message!) they often also provide limited edition drinks. Leaning in to the popularity of the festive season in the states generates interest, buzz and ultimately, a big rises in sales. By creating something that is seasonally-limited it increases exclusivity and the 'try factor'.
5. Poundland – instore decor and signage
Like many stores, Poundland decorates its stores with the products it offers for Halloween – simultaneously leaning into the theme and promoting its own sales. Poundland often lines the ceilings with decorations and provides a festive vibe in store. It also consistently offers strong instore signage advertising new Halloween products, directing customers to POS. If you aren't able to create a new product, add a twist on an existing product or create an online Halloween presence, simply create effective and engaging in store signage to promote the holiday and your products or events therewith. Add spooky roller banners, scary signs or creepy posters, plus some outdoor banners advertising your new Halloween stock!