Photoshop Roller Banners
Adobe Photoshop is a popular and widely used graphic design package. The software is designed mainly for photo manipulation but can be used to create roller banner designs and artwork for print.
To use Photoshop to create print ready artwork there are a few steps that should be followed to ensure that the file sent for printing is set up correctly.
Step 1. Create a new document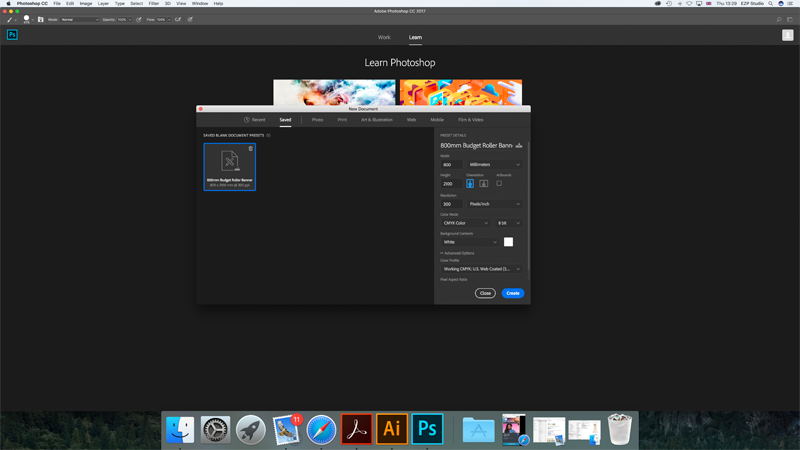 Open Photoshop and create a new document – File – New. In the dialogue box that opens enter the size of the banner you are ordering in the width and height. For example our Economy and Budget roller banners will be width – 800mm and Height 2,100mm. IMPORTANT – ensure you select mm from the list and NOT pixels.
In the resolution box enter 300ppi – this will create a high resolution document suitable for print. It is worth noting that the higher the resolution the large the document size will become. If you find the document is too large at 300ppi this can be reduced, but do not go below 150ppi.
In the Color Mode box select CMYK Color – 8 bit.
Click OK and your new document is created ready for you to start your design work. Following the steps above creates a Roller Banner Template in Photoshop.
Step 2.  Create your design
Let your creativity loose and design your roller banner. Ensure you use good quality and high resolution images. It is important to remember that 100mm at the bottom of your design is a bleed area and will not be visible on your printed roller banner. Treat this area as a bleed, so extend your background down into this area but do not put any text or logo's into it.
Step 3.  Flatten your layers
Once your design work is complete you should flatten all your layers. This will help reduce the size of the file and also helps reduce errors when we print the file. To do this click on "layer" and then "flatten image"
Step 4.  Save your design as a PDF file
We require a PDF file for printing your banner. To create a PDF from your finished design in Photoshop, click on "file" then "save as". Select Photoshop PDF as the format. Click Save. A "Save adobe PDF dialogue box" will then be displayed, select "high quality print" in the Adobe PDF preset box and click "Save PDF"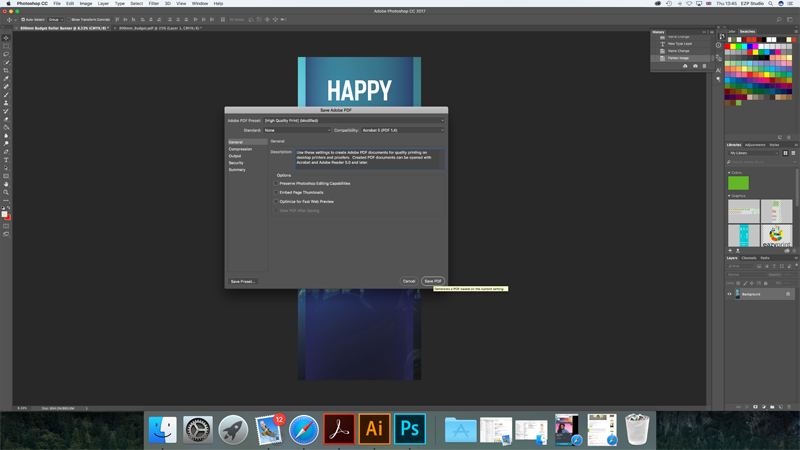 The PDF created can now be uploaded for printing.
To help ensure your design and artwork is set up correctly please have a read through our Artwork Guidance page and also our Artwork FAQ page.
We also offer a banner design service – for just £15 our team of designers can do this all for you. Please see our roller banner design page for more information.
Image credit – Designed by Freepik